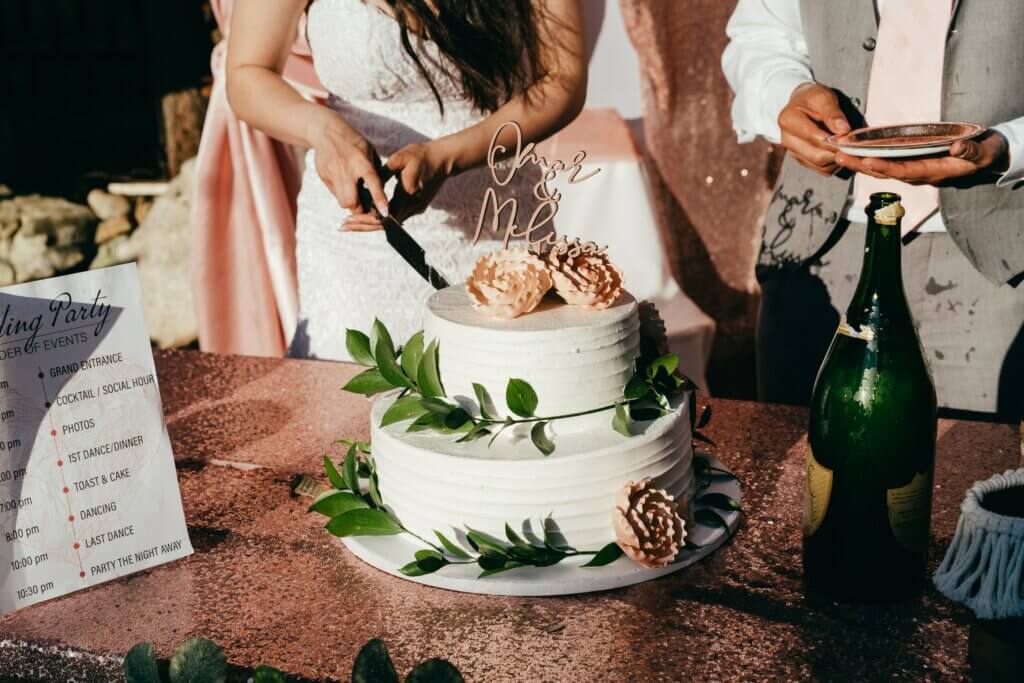 10 Wedding Vendor Marketing Tips Everyone Should Know
How do you stand out from the crowd with your wedding vendor marketing? The wedding industry is a multi-billion dollar industry, and there are many opportunities for wedding vendors to market their businesses and attract new clients. However, with so much competition, it can be difficult to stand out from the crowd.
How to Thrive with Wedding Vendor Marketing
1. Use Wedding Vendor Marketing the Brand. Appear Established and Local.
Work diligently with your wedding vendor marketing to establish yourself as an integral part of your local wedding industry. What do the current competitors lack that you offer? What makes your business unique? What sets you apart from the competition? Once you know your brand, you can start to market it to potential clients.
In a highly corporate world, wedding couples love knowing their vendors are professional, yet personal and local. That you will care and add a personal touch to their most prized day. Share your local presence.
Appearing established is equally important. How do you accomplish this? Work to earn reviews from current clients. Sometimes, a small incentive can help. Reviews are crucial for building trust. Accolades are another form of establishing trust and include local featured vendor badges and awards. Featuring these badges on your website is important to wedding couples.
2. Create a wedding vendor website and start a blog.
Your website is your online storefront, so it's imperative to make sure it's well-designed and easy to navigate. Investing in a quality website and ongoing SEO services can be the difference between being successful and failing. A wedding vendor website should be viewed as the bloodline to your business. Without a good website, you eventually fail.
You should also start a blog as a part of your website to share your expertise and connect with potential clients. Blogs are a great way to build backlinks and further build your brand.
3. Be active on social media.
Social media is a great way to connect with potential clients and build relationships. Make sure you're active on the most popular wedding-related social media platforms, such as Instagram, Facebook, and Pinterest. Showcase and market current weddings and ideas you have. In the wedding industry, if you have to prioritize one form of vendor social media marketing, Instagram should be your choice. It is used by most wedding couples in today's world. The more you showcase and interact, the better!
4. Quality photos matter. Invest in styled photoshoots.
Styled photoshoots are a great way to show off your work and attract new clients. Partner with other wedding vendors to create stunning images that will capture the attention of potential clients. Many photographers will allow you to use their wedding day photos if you give them proper photo credit. Don't be afraid to ask!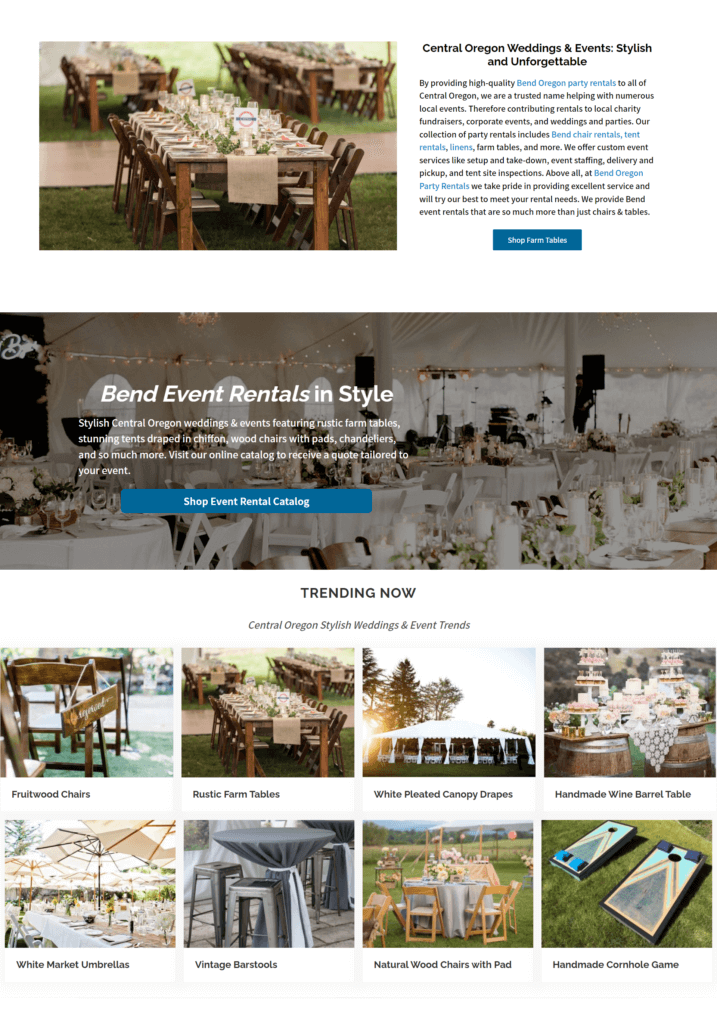 5. Be the Best at What You Do.
Are you a wedding photographer or event rental company? Be the best at what you do. If you're a photographer, have the best equipment and spend time to learn the best photo editing techniques before you launch. If you do event rentals, don't carry old rusted out equipment, offer a step up from what your competitors do. Have the best software, the best website, and the best payment processing capibilities. Work to carry it all. Have the best customer service. Why go anywhere else, when you offer so much and it's always high quality?
When you are just starting out, remember that less is more. If you are a wedding photographer and only have a few really great photos, showcase those. Do not post all of your other photos, that really aren't great and give you a bad name. Less is more, work to build only qu
6. Attend wedding industry events. 
Wedding industry events are a great way to network with other vendors and meet potential clients. Be sure to have business cards and brochures on hand, and be prepared to talk about your business. Look for more localized events such as wedding shows and tradeshows.
7. Get listed in wedding directories. 
Wedding directories are a great way to get your business in front of potential clients. Make sure you're listed in the most popular wedding directories and showcase your accolades from them with Preferred Vendor badges. Local wedding blogs will appear more specialized and personal like Weddings of San Luis Obispo that specializes only in hosting a San Luis Obispo wedding and the surrounding area. These feel more niche and local compared to a large, commercialized national company like The Knott. Showcasing the badges from these directories will help you appear more established.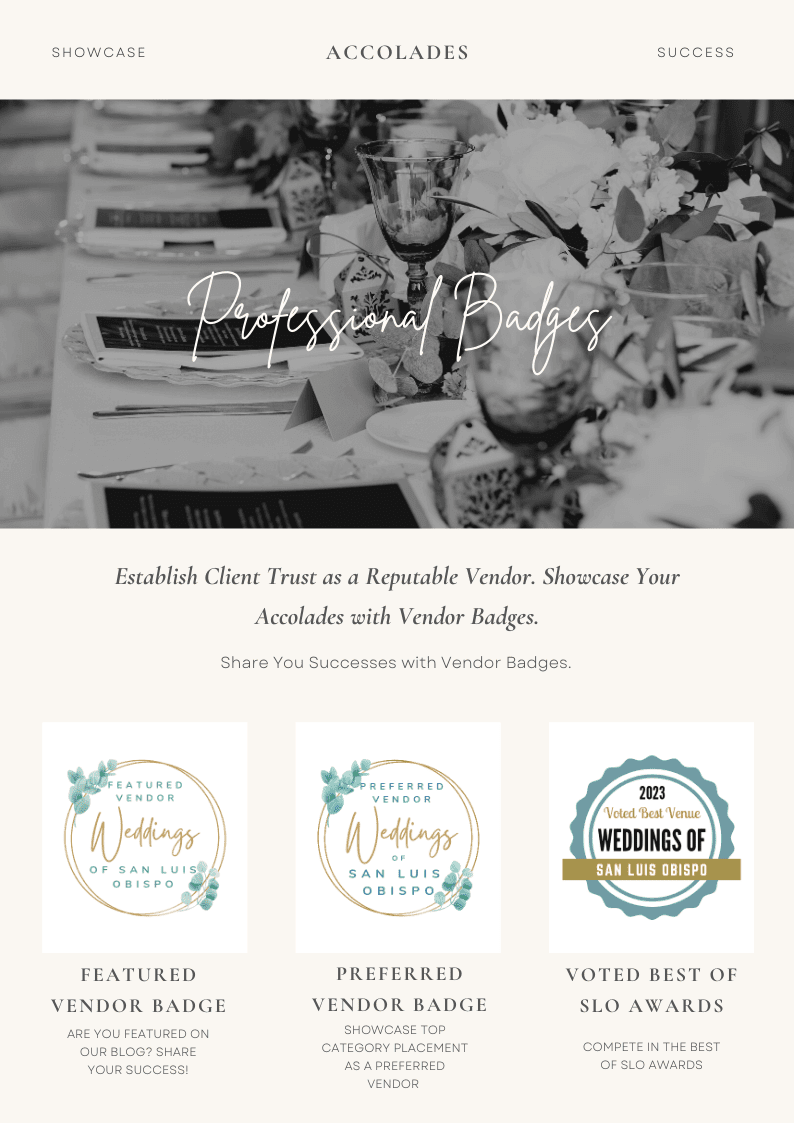 8. Use search engine optimization (SEO). 
Having proper SEO can help your website rank higher in search results, which will make it easier for potential clients to find you. There are a number of things you can do to improve your website's SEO, such as using relevant keywords and phrases throughout your website content.
9. Get positive reviews. 
Positive reviews are a great way to build trust and credibility with potential clients. Encourage your past clients to leave reviews on your website, social media pages, and wedding directories.
10. Provide excellent customer service. 
Excellent customer service is essential for any business, but it's especially important for wedding vendors. Make sure you're responsive to client inquiries and that you go the extra mile to make sure their needs are met.
By following these tips, you can market your wedding vendor business and attract new clients. Remember to be consistent with your marketing efforts, and don't be afraid to experiment with different strategies. With a little hard work and dedication, you can build a successful wedding vendor business.
Additional tips for building your wedding industry business:
Partner with other vendors. Partnering with other vendors is a great way to cross-promote your businesses and reach a wider audience. For example, you could partner with a wedding photographer to offer a package deal that includes your services and theirs.
Be creative with your marketing. There are no hard and fast rules when it comes to wedding vendor marketing. Get creative and think outside the box to come up with marketing ideas that will resonate with your target audience.
Track your results. It's important to track your marketing results so you can see what's working and what's not. This will help you optimize your marketing efforts and get the most out of your budget.
I hope these tips help you market your wedding vendor business and attract new clients!